The Great Wall of China
Northern China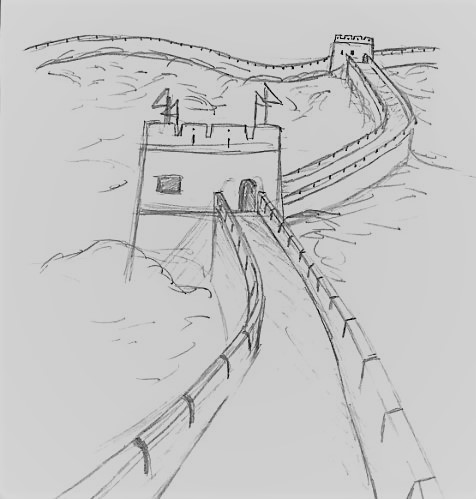 History
The Great Wall of China began as early as the Spring, Autumn, and Warring States period, used by state overlords as a defense against their enemies. It was added upon by the first emperor of the Qin dynasty, who wanted to link the separate sections together to make one fortified unit. This was an ambitious task, employing multitudes of soldiers, commoners, and convicts for building, and caused many deaths among them. When the emperor died, and the Qin dynasty fell, the Han dynasty further lengthened the Wall, and used it as a defense against the Huns in the north, and for something to protect the Silk Road.

The next few dynasties added to the Great Wall, but not by much. It was during the Ming dynasty where construction of the Wall reached its peak. They added miles, grew certain sections by lining it with two or more walls, and included architectural pieces such as pagodas, temples, and bridges. However, this was not enough to prevent the Qing Dynasty's calvaries from invading, and the Ming fell. They added the "Willow Line", a deep trench in between Liaoning and Inner Mongolia, as something that would stop the Hans from invading.

In the present day parts of the Great Wall of China had become run-down, deteriorating from neglect. It is used more as a symbol rather than defense, gaining fame as one of the more impressive pieces of architecture in the world.
Hotels
Beijing Shiguang Greatwall Boutique Inn

Offers: Air Conditioning, free wifi, pet friendly, and has a restaurant

Cost: P6,243/night

Brickyard Retreat at Mutiyanu Great Wall

Offers many facilities such as restaurants, a spa, and a garden. Contains Wifi in all rooms, and has a fitness room.

Cost: ₱7,393 - ₱23,411 (depending on the average rates of a standard room)

Great Wall Ninety Thousand Miles Inn

Offers: Has free wifi, air conditioning, free parking, and laundry

Cost: P2,098/night
Restaurants
Jindian Restaurant

Food: North farm food, hot pot, dumplings dinner, noodles dinner, and Sichuan, Shandong, Cantonese cuisines and Guangdong afternoon tea; Chinese & Western buffet; Muslim meal; and authentic Japanese cuisine.

Seating: Indoors

Jinshan Hotel

Food: Different types of foods, such a sroast lamb

Seating:Outdoors, and may even have campfire parties

Location: Near the Jinshanling section of the Great Wall

Shan Ba

Food: Offers Chinese cuisine, and many other dishes like grilled fish, scrambled eggs, fried pepper buds and rainbow trout

Location: Nearby the Mutianyu section of the Great Wall, which is a popular tourist attraction